New EP released! "EPiphanies", containing four new songs out 22th of July 2021! Stories told by four different voices – a young LGBT+ person, a handgun, a small servant robot and an outkast.
Sad Jack is the not entirely charming alter ego of Stockholm based songwriter/singer/producer Lars Edvall. Debut Album "Sad Jack" (released spring 2018) has been followed by three singles and one EP. On July the 11th 2020 the follow-up album, "Failure anthems", was released, featuring horns, strings and an even more colourful soundscape than ever before. Lyrics-wise you will recognise Jack's messed up mind for sure.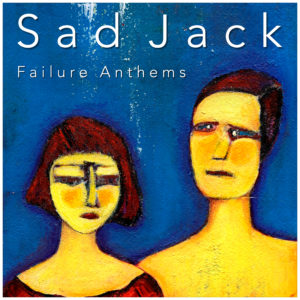 Release party of "8848" with full band live gig 19th of October 2019. See News and/or Media section for info and clips.
New EP release – "Songs So Summerish" on the 12th of July 2019.
Sad Jack's relationship to reality is like the fork's to the entire universe. Follow his night out chronologically at different places through nine songs/moments/delusions on the 2018 debut album:
19.47 – "In your eyes" – hotel room
20.22 – "Don't look any further" – elevator
21.02 – "2 good" – lobby
21.14 – "Car keys" – thinking ahead a bit
22.38 – "Plain disaster" – old aquaintancies
22.46 – "Claim on my heart" – running idle
23.11 – "M F" – change of perspective
23.56 – "Shut your mouth" – oh, this charming man
00.34 – "Jack" – say what?